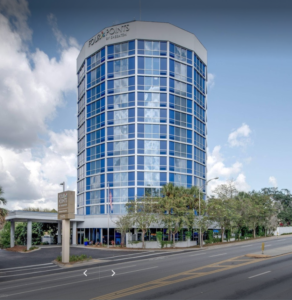 To book your rooms online click here.
  Mention Star Trek Convention 2022.
For the hotel website click here
316 W Tennessee St, Tallahassee, FL 32301
Room Rates are $119 + state and local tax.
Please consider this as an opportunity to vacation in Florida. Tallahassee is 4.5 hours from Orlando and Disney, 2 hours from Panama City Beach, St. Augustine (oldest city in the nation) is 3.5 hours away. Wild Adventures Amusement Park (in Valdosta, Ga.) is 1 hour and 15 minutes away from Tallahassee. Florida Caverns are with in 2 hours and USS Alabama (Mobile, AL) is 3 hours away.  If anyone needs additional information on any of the things to do in the area just let me know and I will do my best to get it for you.  There are various things to do in Tallahassee itself and a really nice History of Florida Museum within walking distance of the hotel. We hope to get a website up and running in the near future with additional information about travel options, and dining options.